---
The 5 Reasons Why You Should NOT Buy An Investment Property in Sydney in 2016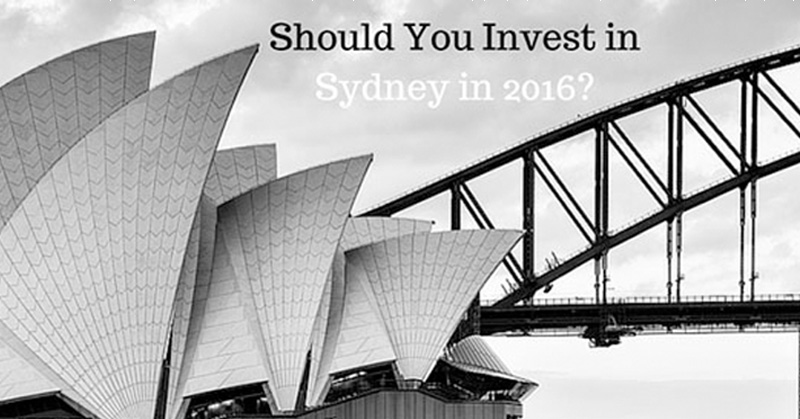 Unless you've been living under a rock, you know the Sydney property market has seen a stratospheric price rise in the last few years. For those who purchased early enough, congratulations! You would have seen some amazing capital growth. However, just because Sydney has had such an amazing run for the last 3 years, does that mean you should be looking to buy your next investment property in Sydney in 2016? There are many out there who are making Doomsday predictions for the Sydney market. Let's be frank – that's just dumb!
Why American Experts Almost Always Have No Clue About the Australian Market
Some prominent property experts (mainly Americans) predicted the Sydney market was significantly overvalued, that we were in the midst of a property bubble and that prices would fall dramatically. Sell and sell fast was their advice! Oh – and this was back in 2012! I feel sorry for those who followed this misguided "advice." Some of these so called experts are now back saying they got their timing wrong but Sydney is definitely now headed for Doomsday. What do I think? Bollocks!! (I'd use harsher language if this wasn't a family friendly topic).
What We Can Discover From History
The Sydney market has always had periods of massive growth followed by times of no growth and maybe even a slight correction. I expect the same to happen again, now that the Sydney price boom is over for this cycle. Talking about a property crash makes a great headline. Please don't make your investing decisions based on media headlines. That's a sure-fire recipe for financial pain and regret. Instead make your investing decisions based on data and facts. To make it easy for you, I've created a graph which tracks the average property prices in Sydney over the last 20 years.
What the Data Tells Us
The first thing to note is if you had bought an average investment property in Sydney 20 years ago, you would have made around 375% in capital growth. Fantastic! Is Sydney going to make those sorts of gains again in the next 20 years? I'm not sure but even if prices rise only half as much – wouldn't you be happy with Capital Growth of 187.5%? I sure would be. Now let's inspect the graph more closely. In the years 2004 – 2006, the graph dips. Yes, property prices went down! That might come as a shock to those who think Sydney property prices never drop but let's get real. You want the facts and that's what I want to give you. Property prices can and do drop but, as you can see here, the drop is not a big deal. Average prices increased by 151% or $332,000 between years 1996 and 2004. Then between 2004 and 2006 prices dropped approximately $25,000 or a meagre 4.5%. As you can see, the size of the decline in prices was nothing more than a fraction of the price growth of the previous few years. So if you had bought an investment property in Sydney between 1996 and 2003, this shouldn't have bothered you. However, you did not want to be entering the market between 2004 and 2006 Now look at the periods between 2006 – 2009 and 2011 – 2012. Price growth was relatively flat. We of course all know what happened after 2012.
What to Expect in the Sydney Market in 2016 and Beyond
So we can see from history that the Sydney market has periods of sharp rises, followed by small declines and then periods of next to no growth. History is starting to repeat itself. We can see this from the slight dip that occurred between 2015 and the start of 2016. I believe 2016 to 2018 will be similar to the time period between 2004 to 2006. Prices will drop slightly but it will be nothing more than a slight correction. No Doomsday!  No repeat of what happened in America! No need to sell your existing properties out of fear of prices crashing. It's never happened in Sydney and it won't happen now. Our population is growing too quickly AND our banking system is so much more robust than several other countries such as the US or Spain. (Going through the differences here would be a whole other blog post so I won't do so). So now that we know the sky isn't going to fall on our heads and prices are not coming crashing down, let's consider:
Is Sydney The Place To Buy Your First (Or Next) Investment Property In 2016?
The answer is a Resounding NO! Regardless of what type of investor you are, 2016 is NOT the year to enter the Sydney market if you want further capital growth in the coming few years. I am assuming that is what you want so let's look at the 5 reasons that lead me to this conclusion:
1. The Sydney Market Is Currently In A Slight Downturn.
According to Residex, prices dropped 1.19% in the last quarter and 1.86% in the last month. So the rate of decline is getting faster. Although not a big decline, what it does show is that capital growth in the short to medium term is essentially not going to happen (So why would you bother buying in Sydney?) As I said earlier, I expect the year 2016 to 2018 to be similar to 2004 to 2006, where prices flat lined and even dropped slightly.
2. The Negative Cash Flow On Sydney Properties Hurts!
The average rental return in Sydney is approximately 2.6 to 2.8% on houses. It's a little higher on units but then the strata costs end up doing more damage to your cash flow. I recently met a couple who had purchased a property in a prestigious suburb on Sydney's north shore. The property was valued at $1.4 Million but they were only getting $700 per week rent. That works out to be a 2.6% rental return but the bottom line was even more depressing. The property was costing them $1,700 per month. So they had to find, on average, $1,700 per month from their back pocket to feed this property after receiving the rent! This story is quite typical for Sydney investors.  I'm not totally against negative cash flow in the short term BUT if the cash flow is negative, it should be so minor that it does not affect your lifestyle. $1,700 per month is NOT minor for almost anyone. Not only was this affecting the poor couple's lifestyle but it also severely impacted their borrowing capacity. So trying to get a loan for another property was virtually impossible. It was a lose-lose situation and one you want to avoid. The other thing to consider is that properties in Sydney are generally negatively cash-flowed while interest rates are at record lows. What is going to happen when interest rates rise, as they inevitably must do at some point in the near future?!
3. The Vacancy Rate for Sydney Property is on the Rise
That means it is more difficult to get a tenant for your property or you have to reduce your expected rent in order to get a tenant. I recently met a tenant who successfully negotiated their rent down by $80 per week. The poor owner had no choice if they wanted the property rented. Now consider the impact of this, in line with the previous point. If properties in Sydney are already negatively cash flowed and rents are now on their way down, what's going to happen? The cash flow pain for investors is only going to increase. Markets often change from being a Landlord's market (where it is easy to get tenants to pay top dollar) to being a renter's market (where it's harder to get tenants, rents are lower and there may be long periods with nobody renting your property). That's part of the natural market swing. You need to understand that and know when to stay away from entering a market.
4. The Land Tax Threshold For Sydney Stings!
In NSW right now, the land tax threshold is $482,000. So if you have an average house in Sydney as an investment property, it will probably be valued at over $1M and land value more than half (ie: more than $500,000). This means you're over the Land Tax Threshold and will be slugged with a bill of thousands of dollars every year! Unfortunately, most investors do not plan for this and it is a very unpleasant surprise to receive in the mail.
5. Getting Investment Loans on Sydney Property is Getting More Difficult
Lenders are looking to reduce their exposure to Sydney. So they are lending less and it is more difficult than ever to get a loan for an investment property in Sydney. If lenders are looking to lend less in Sydney because they feel it is a risky market, should you be taking on such a risk? Banks are especially against lending on apartments. I was at a recent meeting of the banks and many said they don't want to have anything to do with any apartment that is less than two years old. Now consider the number of apartments that reaching completion and if banks don't want to lend against them, how are people expected to settle on these properties? For many who purchased Off the Plan properties a few years ago, these properties are now coming up to completion. When the purchasers put down their 10% non-refundable deposit down, say 3 years ago, the lender may have said they can get the loan. Today the situation is different. It is expected that one in three new apartment buyers will not be able to get finance, because banks have changed the way they assess loans. So these poor people will lose their 10% deposit (on an $800,000 property, that is $80,000 GONE!) and the vendor will look to sell but at a lower price. This will be part of the property price correction I mentioned earlier. Knowing this, do you want to get involved in the Sydney market? Now you know the 5 reasons why the Sydney market is a no go zone for investors in 2016 and the foreseeable future. So if you're an investor who wants low risk, set and forget type property investments that are expected to grow in value over the coming years, you need to look outside of Sydney.
How to Work Out Where's Right For You to Invest
I recommend working with a property investment professional that is able to research the country and give you direction on where the best opportunities are for you, based on your current financial situation and your investing time frames. Whenever I talk about investing outside of your local area, people tell me, "Oh, but I know my local area. I don't know anything about the area you are talking about." I understand that. You know your local area from a perspective of what it's like to live there, the kind of people that are there and the property prices. However, do you know the answers to the following questions about your area?
What is the vacancy rate?
What is the proportion of Owner Occupiers to Investors?
What is the expected population growth?
What is the expected infrastructure investment for the area?
What is the net cash flow of an investment property in your area?
These are some of the fundamental questions you must get clear on before you buy an investment property anywhere. Unfortunately the answers to these questions for almost all areas in Sydney are not in your favour (as an investor). Look if you're keen on putting together an investment plan that will allow you to retire in 10 years or less, then you MUST buy in areas that are growing now, you MUST buy in areas where the property is not heavily negatively cash flowed (preferably positive cash flowed) and you MUST ensure you get the finance structure right (For example, don't put all your loans with one lender). If you want to find out more where to invest for this year and beyond as well as a proven 17 Point Property Selection Criteria, I'm holding a special no obligation online class where I'll cover all of this and so much more. To find out if this will be a good fit for you, visit our Online Class page To your success, Niro
Recommended Posts
June 20, 2022